Image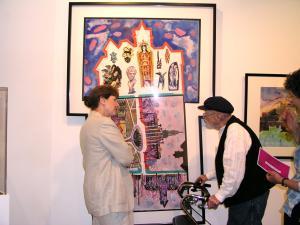 Art of the Book Club A Museum Associates affliliated group that supports conversation regarding selected books, art, and museums. Books are selected quarterly for February, May, August, and November, in conjunction with special exhibitions in the Museum collections, art and artists, etc. See the Museum Calendar on those months for events, check the Museum Magazine, or for up-to-date information see https://www.facebook.com/mumaabookclub/
Community Outreach
One of the goals at the Museum of Art and Archaeology is community outreach—making sure that the Museum's exhibitions and collections are accessible, affordable, educational, and fun for people of all ages. The Museum of Art and Archaeology's Community Outreach Program provides information on exhibitions, programs, and events at the Museum. This service is available free of charge to any organization requesting a speaker. To inquire about reserving a speaker, please contact the Museum at 573-882-3591.
Healing Arts Program
"…the most profound testimony to this program is the response of our participants when they are in the galleries and when they leave - their sense of peace and deep admiration is evident in their hearts even if they are not able to verbalize it to us. What a wonderful communication tool! I am excited about the future progress." —Carolyn Anderson, Activity Coordinator at Adult Day Connection
There has been a growing effort to use art as a therapeutic tool for those in the grip of Alzheimer's disease (AD). Art therapy, practiced in both the appreciation of art and the creation of art, has been used for decades as a non-medicinal way for caregivers to help manage the disease. More and more museums are trying to bring this form of therapy into their galleries, using their collections as powerful ways to engage minds struggling with dementia.
Studies have established that art can provide people living with Alzheimer's disease a way to express their thoughts and emotions. AD can affect a person's ability to communicate due to cognitive, behavioral and emotional changes. Art therapy provides AD patients and their caregivers with a tool that can provide the ability to communicate in ways other than verbally.
Anecdotal evidence given by family and other caregivers provides us with a pattern: patients visiting museums exhibit increased verbal skills – even lucid dialogue. There is also improvement in patients' moods for hours and even days after a museum visit or other art therapy experience. Sometimes there is an awakening of skills in the arts that was otherwise unknown in a patient.
The reason art therapy helps people with Alzheimer's or dementia? The art experience, whether passive or active, is not just a visual experience. It is an emotional experience. Perhaps this experience is helping the brain fire neurons that had lay dormant since the onset of Alzheimer's. Museum visits seem to spark these neurons by way of interpretive and expressive powers in people with Alzheimer's and dementia.
In 2007 funds were granted to the Museum by the Boone County Community Trust for the following:
Art supplies for Alzheimer patients - Paper, markers, watercolors, tempera, stencils, brushes, colored pencils, crayons, clay, and other media
Frames for displaying patient artwork
Reprints of Museum art and frames
Cost of transportation for visits to the Museum – bi-weekly 
The Museum of Art and Archaeology, in collaboration with MU's Adult Day Connection Center, and the Mid-Missouri Chapter of the Alzheimer's Association, provided bi-monthly tours to small groups of people with early stage Alzheimer's. They also had opportunities to create various forms of art to be displayed at the Adult Day Connection Center. The Museum created reproductions of works seen on visits to the Museum, and these were framed and were on display at the Adult Day Connection Center as part of a revolving art exhibition. The artwork both engaged the patients and, it was hoped, providesd a reminder of their trip(s) to the Museum.
The grant made a huge difference in the lives of people with Alzheimer's, as well as in the lives of their loved ones, caregivers, and friends. The Museum and the Adult Day Connection have worked to continue their collaboration. Sadly, in May of 2020, the Adult Day Connection closed.