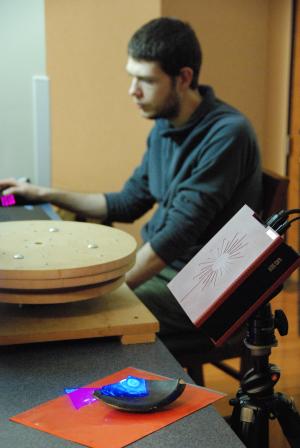 Research represents one of the Museum's core functions defined in the Museum's mission statement. Rather than merely repackaging knowledge through exhibitions and interpretation, the Museum seeks to actively expand its frontiers through original research. The Museum of Art and Archaeology has a long history of substantive research in art, art history, and archaeology as well as closely allied disciplines, and continues its commitment to making its collections and resources available to the scholarly community at large. In addition to supporting staff-based research projects, we welcome research by MU staff and students as well as by visiting scholars. Please don't hesitate to contact members of the Museum staff with questions regarding research access, or with suggestions of resources which would promote ongoing research relating to the Museum's collections and areas of interest.
Research projects by Museum staff have included:
The Museum contributes to a range of other international research and cataloguing projects, including the Gothic Ivories Project, the Cuneiform Digital Library Initiative, the Corpus Vasorum Antiquorum and ASMOSIA, the Association for the Study of Marble and Other Stones in Antiquity. 
Information regarding staff areas of research, access by visiting scholars, and resources for visiting scholars is available through the links on this page. Information on the Museum's Collections is available on this website, and an Illustrated Museum Handbook: A Guide to the Collections in the Museum of Art and Archaeology also is available.