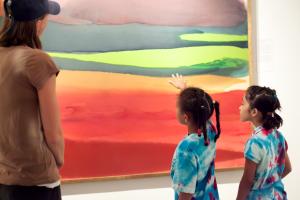 General Museum Rules
No food or drink allowed.
No flash photography.
Do not touch the artwork.
Do not lean on the walls.
Policy Regarding Maximum Group Size for Tours
These policies affect the maximum number of individuals in a led tour; and do not apply to general building walk-throughs which do not require presentations or a tour leader, and for which the group would not be moving through the building en masse.
For university students, whether from MU or other campuses or colleges, acceptable group size is no more than 20-25, with larger groups broken up into a series of smaller groups. In this case the professor or instructor scheduling the tour will need to decide how to best divide the group.
For general adult or secondary school audiences the maximum led group size is 20. Larger groups should be divided into a series of smaller groups; the teachers or group leaders scheduling the tour are responsible for dividing the group.
For elementary school and pre-secondary groups, the maximum group size is 15. Adult chaperones are required.
For preschool groups the maximum group size is 10 pre-school children plus 3 or more adult chaperones.
The Museum welcomes all groups, and has adopted these policies to ensure that all visitors, whether individuals or members of groups, can best engage authentic objects and enjoy the Museum's unique and irreplaceable collections of art and artifacts.
Exceptions to these group limits will only be made by the supervising curator of the gallery involved, at his or her discretion.
Event Cancellation Policy
The Museum of Art and Archaeology reserves the right to cancel events due to poor weather, low registration, or other unforeseen events. Please provide a contact number when registering for tours and educational programs in order to be notified promptly.