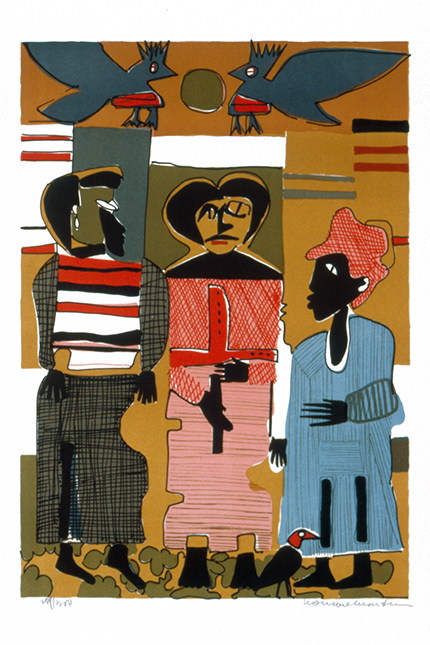 Guiding Questions
What story do you think this work might tell?
The artist, Romare Bearden, said that music, particularly improvisational jazz, influenced his work. How does this work show those influences?
How do the bold colors in this lithograph affect your reaction to the work?
About the Art
This is a color lithograph by Romare Bearden called Firebirds. The work is a good example of Bearden's style of using bold, flat areas of color to create a collage effect that recalls African cloth. Firebirds may be associated with the phoenix, the bird of Egypt thought to be tied to the sun-god. According to legend, the phoenix lived for 500 years. It laid an egg in its nest, set it on fire, and out of the ashes, a new phoenix was born. This relates to ideas about rebirth and resurrection of the dead, and to both pagan and Christian beliefs.
Lithography is a kind of print in which the artist etches, or carves, their artwork onto a plate, usually made of metal. The plate is then coated with ink, which sticks to different parts of the plate depending on how the artist carved it. The plate is placed in a printing press with a piece of paper, which is then printed with the artwork. The plate can be re-inked so many copies of a single work of art can be made.
About the Artist
Romare Bearden grew up in New York City's Harlem, where he met many of the cultural leaders of the Harlem Renaissance as a child. In the 1930s he studied art at New York University and the Art Students League. Bearden also spent time in Paris where he was influenced by European modernism and abstraction. In the 1960s Bearden became interested in representing African American themes in his art. He became famous for his painted collages made of photostats and cut paper, which represent black people in uncertain times and spaces.
The art of African American artist Romare Bearden is inspired by European modernism, African tribal forms, Byzantine mosaics, and Chinese calligraphy. In the 1960s he achieved acclaim with the development of his photomontages which addressed African American political and social themes, street scenes, and jazz musicians. Bearden's art cuts across color boundaries, yet testifies to its cultural heritage. He translated well-known collages into monoprints and graphic works seeking to make his imagery more available to a wide audience.