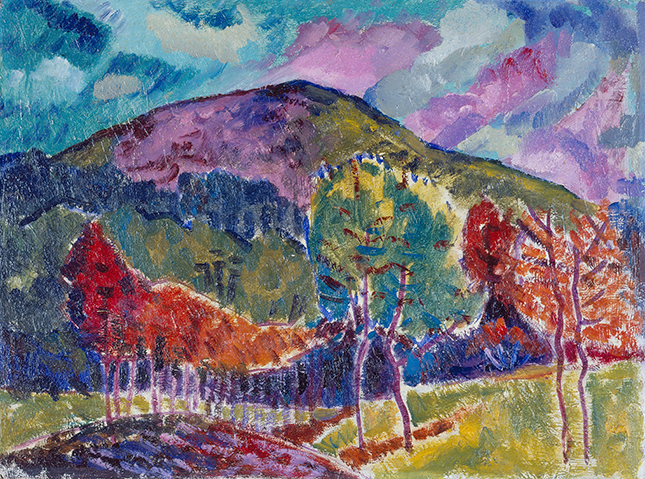 Guiding Questions
How might you describe the colors in this painting? Why do you think the artist might have chosen these colors? 
What kind of day do you think it might have been when the artist painted this?  
About the Art
This painting by the artist Charles Demuth is a landscape showing Mount Monadnock in New England. Demuth painted this in a style called "Fauvist," which means "wild beast" in French. The Fauvists used exaggerated or saturated colors and simplified their subjects which led some people to call them "wild." Demuth was one of the only Americans to paint in this style. He was also influenced by the Impressionists who painted in a style that was less realistic, but was more concerned about capturing the "impression" of a moment. As a result of this influence, this painting gives the viewer the "impression" of a colorful fall day in New Hampshire. Mount Monadnock is a beautiful mountain that has inspired many artists and poets.
About the Artist
Born in Lancaster County, Pennsylvania, Charles Demuth studied at the Pennsylvania Academy of Fine Arts with the American Impressionist painter William Merrit Chase. In 1904 and again in 1907, Demuth traveled to Paris where he encountered the work of Post-Impressionist artists Paul Gauguin, Paul Cézanne, and others. He lived in France between 1912 and 1914 and was undoubtedly influenced by Fauvist painters such as André Derain and Henri Matisse as well as by the Cubists.
Connections
Compare and contrast with other landscapes like The Lake of Avernus or other more abstract works like Karoly's Concerto Grosso. Where do you see the influences of both these kinds of works on Demuth?
Additional Resources
More about Charles Demuth: https://www.wikiart.org/en/charles-demuth
Fauvism, Metropolitan Museum of Art: http://www.metmuseum.org/toah/hd/fauv/hd_fauv.htm
https://discovermonadnock.com/5-favorite-quotes-monadnock-region/