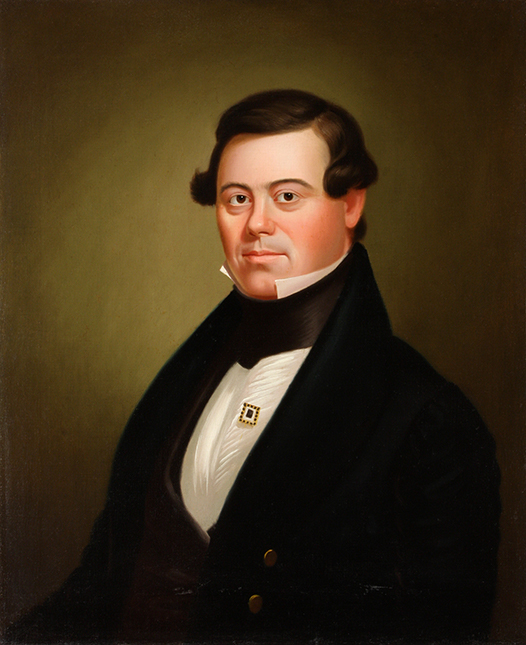 Guiding Questions
What might you be able to tell about the person by his clothing in this portrait?
What could you guess about him from his pose (how he is positioned) and the expression on his face? 
How does color set the tone and mood of the portrait?
About the Painting
This is a portrait in oil of Thomas Withers Nelson (1804-1879), a businessman who lived in Boonville, Missouri, and was friends with the artist, George Caleb Bingham. The Museum's portrait was originally paired with a painting of Nelson's wife, Mary Gay Nelson. 
A portrait is an artwork that depicts a person. These artworks are usually realistic and are meant to capture the way a person looks, like a photograph. Mr. Nelson, shown in this portrait, probably asked his friend, George Caleb Bingham, to paint portraits of his wife and himself to hang in their house so that their children and other descendants would remember what they looked like. Mr. Nelson carefully picked the clothes to wear for his portrait. His clothes tell us that he was a successful businessman, but they also give us another clue about his life. The pin he is wearing is a mourning pin made of black jet. These were often worn during this time period in memory of a loved one who died. In this case, scholars think Mr. Nelson might be wearing this pin in memory of his son Wyan, who died in 1845 around the time this portrait was painted.
About the Artist
George Caleb Bingham is Missouri's most famous nineteenth-century painter. He was born in Virginia in 1811, and moved to Franklin, Missouri, in 1819. He began his career as a self-taught portrait painter in 1833 and became successful enough to open a St. Louis studio in 1834 and travel to Europe in 1856. Bingham lived in Columbia, Missouri, at several different times during his life and was appointed the first Professor of Art at the University of Missouri in 1877. While he is well known for genre paintings capturing narrative scenes of Missouri life, he spent most of his later life in politics and painting commissioned portraits. 
Connections
Compare the Nelson portrait with the other four portraits by Bingham in the Museum's collection.
What kind of clothing would you wear if you were going to have your portrait painted? What would you hope people in the future would be able to tell about you when looking at your portrait?
Additional Resources
A biography of George Caleb Bingham and an overview of his important works from the State Historical Society of Missouri: https://historicmissourians.shsmo.org/george-caleb-bingham.
More portraits by George Caleb Bingham, held by the State Historical Society of Missouri: http://www.flickr.com/photos/statehistoricalsocietyofmissouri/sets/72157...