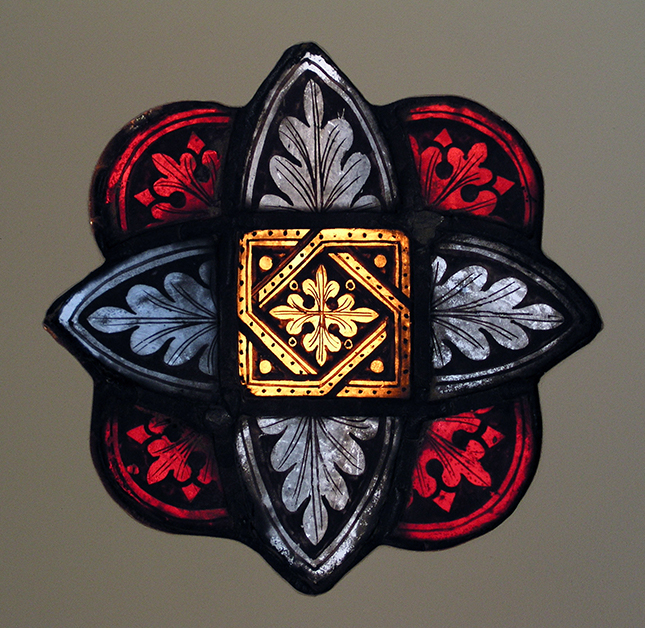 Guiding Questions
Where might you expect to see an object like this?
How do you think this might have been made?
What do you think this object might look like without light behind it? How does light change this piece?
About the Art
This small quatrefoil is a fragment from a much larger window. It originally would have been incorporated into a complicated composition. A quatrefoil is a shape that is similar to a fourleafed clover. This piece of stained glass is more specifically called a barbed quatrefoil because of the blue pointed "barbs" separating the four rounded leaves of the quatrefoil. The deep blues, rich yellows, and bright reds create a beautiful ensemble of primary colors that is typical of French stained glass during the thirteenth century. Each panel is delicately hand-decorated with black paint, and the brush strokes are visible on close inspection.
About the Material
During the Medieval period, artists and artisans invented the stained-glass technique to embellish architectural interiors. Colored glass pieces were painted and fastened together in lead frames to create pictures and ornamental designs that were placed in windows. Light shining through these windows created walls of color that transformed church interiors into otherworldly, spiritual spaces. 
Connections
Visit the thirteenth century Sainte-Chapelle in Paris: http://www.sainte-chapelle.fr//
Where can you find other examples of quatrefoils or trefoils? Where might you imagine the Museum's stained glass fitting in here?
Where might you find examples of stained glass in your town today? How do you think those examples might differ from this one?
Additional Resources
Stained Glass in Medieval Europe, Metropolitan Museum of Art: http://www.metmuseum.org/toah/hd/glas/hd_glas.htm
Other architectural shapes and terms from the Medieval period: http://www.pitt.edu/~medart/menuglossary/Quadfoil.htm