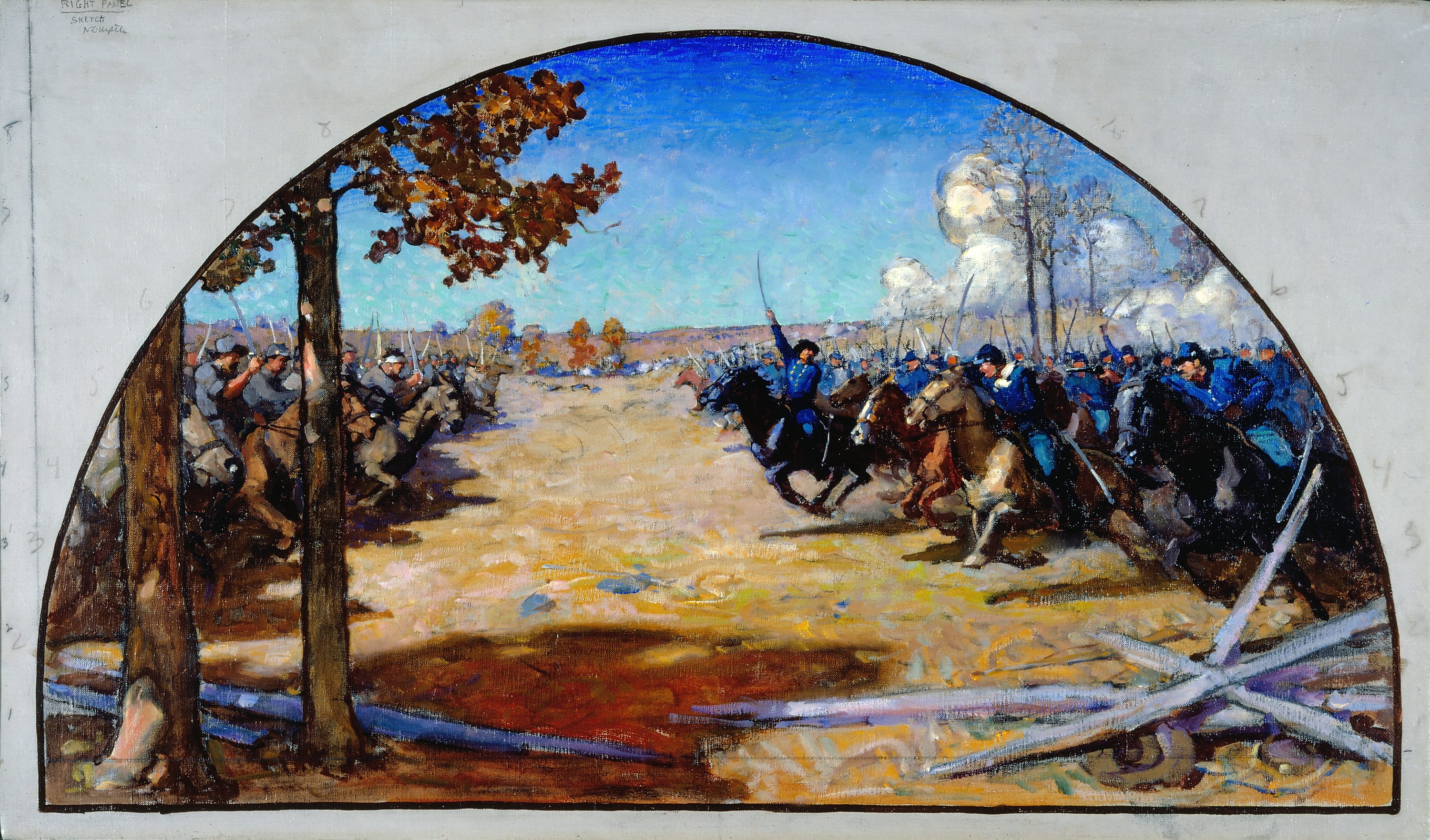 Guiding Questions
Which side do you think might win this battle? What do you see that makes you say that?
Why do you think the canvas is shaped this way? How do you think the shape of the painting might have affected the way the artist showed this battle?
About the Art
This is a painting that is a study for a lunette decorating the Missouri State Capitol building in Jefferson City. Lunette is a French word meaning "little moon." In architecture, lunettes are half-moon spaces created in the interior walls between the curves of a vault or arch.
All of the artists who were involved in the Missouri Capitol were assigned subjects for their art, did historical research about their subjects, and submitted multiple sketches to the Commission in charge of the Capitol decoration for approval. Their final submissions before painting the final canvases were smaller oil studies on canvas. The lunette seen here is one of these final studies. All of the murals in the Capitol were painted on large canvases rather than being painted directly on the wall surface. The completed canvases were fixed to the wall with glue.
This painting shows the Battle of Westport, which took place towards the end of the Civil War and was the last major Civil War battle in Missouri. The Confederates made a desperate cavalry charge in an attempt to overtake Union batteries (cannon lines) positioned along a ridge near Kansas City. Union forces met the charge and the seven-hour cavalry fight was one of the fiercest battles of the war. The battle is sometimes called the "Gettysburg of the West." About the Artist Newell Convers Wyeth was born on October 22, 1882, in Needham, Massachusetts. His son, Andrew Wyeth, was also a famous painter. Growing up on a farm, N.C. Wyeth developed a deep love of nature. He studied art at the Howard Pyle School of Art, where he was encouraged to use dramatic effects in paintings and to develop a personal knowledge of the subject matter he painted. Wyeth was commissioned to paint the eight murals along the east end mezzanine of the building. Two of the murals represent Civil War Battles in Missouri. Because both the North and South received strong support in the state during the conflict, Wyeth was asked to paint a Confederate victory (the battle of Wilson's Creek), and a Union victory (the battle of Westport).
Connections
Compare and contrast with Sylvester's The River.
Compare and contrast this lunette with the other Civil War lunette that Wyeth painted for the Missouri Capitol. This painting shows the battle of Wilson's Creek, a Confederate victory. How does Wyeth show who won each battle?