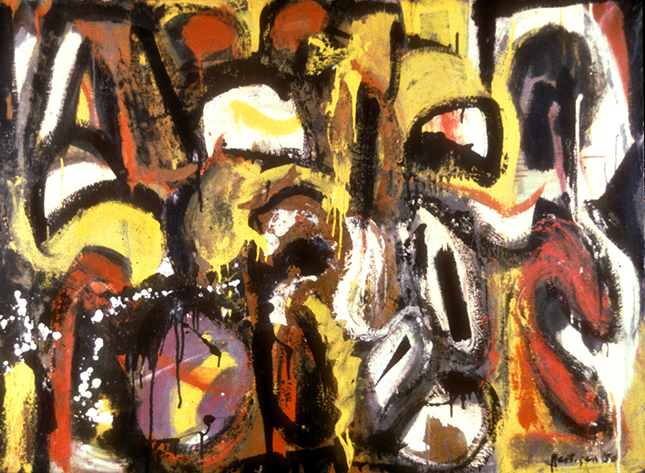 Guiding Questions
What can you tell about how Grace Hartigan painted this painting? What do you think her arms and legs were doing as she painted The Gallow Ball? 
What do you think this painting might be about? What kind of energy do you think Grace Hartigan was trying to show?
How would you describe the colors in this painting?
About the Painting
This is an abstract painting by Grace Hartigan called The Gallow Ball. She painted in a style called Abstract Expressionism. When you look at this painting, rather than seeing people, objects, or scenery from real life, you can see how the artist worked. Each stroke of paint shows the viewer just how the artist applied it. Abstract Expressionist artists use bold brushstrokes, sometimes even pouring the paint right onto the canvas or incorporating other materials into their paintings, like part of a newspaper you can see in The Gallow Ball. Abstract Expressionist artists use line, shape, and color to show movement and energy in their paintings. 
About the Artist
Grace Hartigan was born in Newark, New Jersey. She went to school to become a mechanical engineer, but started painting after she married and moved to California. The Gallow Ball is one of her earliest works. She later moved back to New York and became friends with other important Abstract Expressionist painters like Jackson Pollock and Willem DeKooning. In the 1950s, LIFE magazine wrote that she was the most celebrated woman painter in America. Her paintings were featured in important exhibitions at the Museum of Modern Art and can be found in museums all over the world.