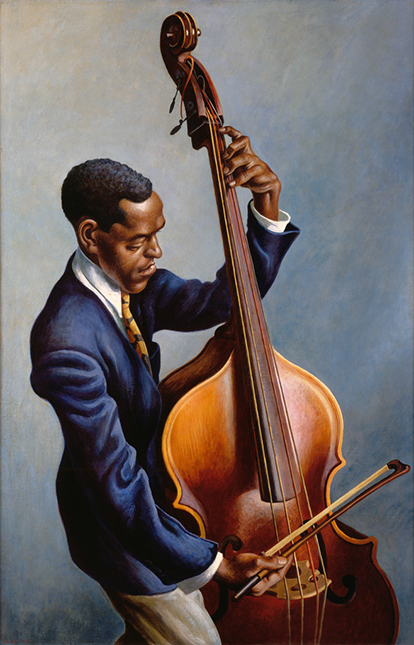 Guiding Questions
What kind of music do you think this artist might be playing? What do you see that makes you say that?
Try listening to some jazz music while you look at this painting (For All We Know by Dexter Gordon). How might the music and the painting be similar in style?
About the Art
This painting by Thomas Hart Benton is a portrait of an African American jazz musician who played in Kansas City. In this painting, you can see that the curving lines of the double bass the musician is playing are repeated or echoed in the curves of the his face, hands, and body. Seeing the repetition of so many lines in similar but different ways reminds us of the way that jazz music often repeats the same musical phrases with variations, making the music sound similar but slightly different each time it is repeated.
The model for Portrait of a Musician was a jazz bassist who played in a Kansas City nightclub that Benton often went to in the 1940s. He was interested in representing African American culture in Missouri and he particularly enjoyed drawing and painting jazz players and folk musicians. African Americans were often ignored by most white artists in the first half of the 20th century, making this an unusual painting for the time period.
About the Artist
Thomas Hart Benton was born in Neosho, Missouri, in 1889 and is one of the most famous artists from Missouri. The exaggerated gestures and undulating lines are typical of Benton's style. In the 1920s and 30s, Benton became associated with the American Regionalist movement (See also The River by Sylvester). Like other Regionalists such John Steuart Curry and Grant Wood, Benton often represented the everyday life of poor and rural people in the Midwest. The Regionalists thought it was important to celebrate the lives of working class people who were often ignored in the big cities of America.
Connections
Compare and contrast with another famous Missourian artist's portrait, George Caleb Bingham's Portrait of Thomas Withers Nelson.
Compare and contrast the expression of music by two other artists.
Additional Resources
More information on Thomas Hart Benton: http://www.pbs.org/kenburns/benton/
https://www.trumanlibrary.gov/education/lesson-plans/independence-and-op...
Photographs of the Benton murals in the Missouri State Capitol
The History of Jazz from the Smithsonian