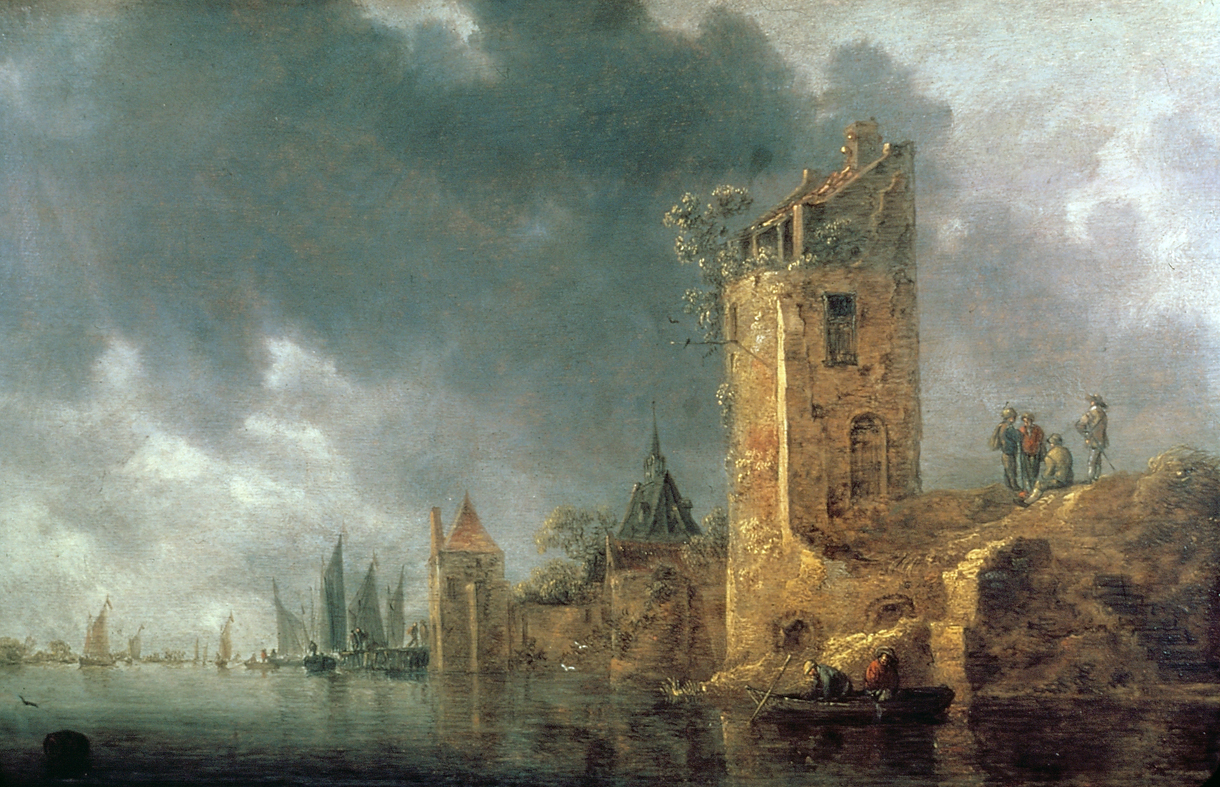 Guiding Questions
What are you most drawn to look at when gazing at this painting? Why do you think that might be?
After looking at this painting, what do you think might be important to the painter?
What three words would you use to describe this painting?
About the Art
While other painters were painting religious images like Abraham's Sacrifice of Isaac, some Dutch artists began focusing on landscape, portraiture, still-life, and genre painting (depicting scenes of everyday life). The land, in particular, became an especially important symbol of success and prosperity after Holland's war with Spain ended in 1609. What used to serve as merely the background to pictures became the main focus of many paintings.
In this landscape, the sky occupies the major part of the canvas and seems to add movement to the composition. The riverbank is viewed from an angle and this creates a diagonal arrangement that is more lively and interesting than a horizontal view. The artist seems to be focusing on the play of sunlight and shadow on clouds and water, but there is also a lot of detail added in the figures on the riverbank and the sailboats downstream.
About the Artist
van Goyen was one of the masters of Dutch landscape painting. He began his apprenticeship to become a painter when he was ten years old and is known to have painted over 1200 works. It should be noted that although Dutch landscapes like these were based on direct observation, they were usually created in the studio. (It was not until the nineteenth century that artists worked out-of-doors).
Connections
Compare and contrast to the Abraham's Sacrifice of Isaac. While the subject matter is entirely different, what similarities might you find in the lighting and mood of the paintings?
Compare and contrast to Demuth's New England Landscape #8 (Mt. Monadnock). While they are both landscapes, what differences can you find in the style of the paintings?
Additional Resources
See more of van Goyen's landscapes: http://www.pubhist.com/person/65/jan-van-goyen
Brief history of the landscape genre from the J. Paul Getty Museum website: https://www.getty.edu/education/teachers/classroom_resources/curricula/l...